DesignSecure™ Basketweave® Features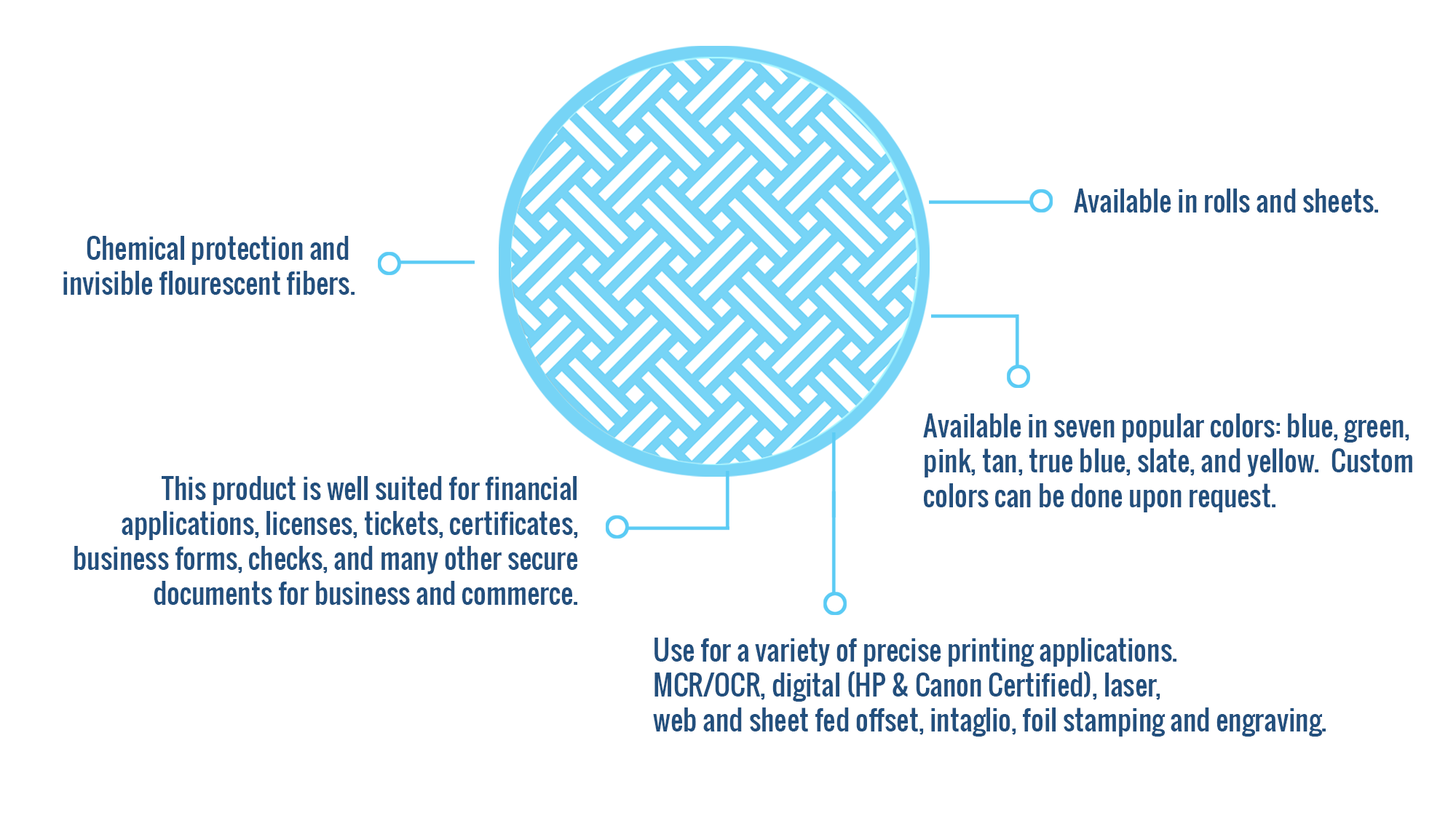 DesignSecure™ Basketweave® Specifications
| Basis Weight (17x22x500) | Caliper | Smoothness | Tear | Mullen | Moisture |
| --- | --- | --- | --- | --- | --- |
| 24 lb. | 4.2 | 80 | 60/70 | 38 | 5.3 |
Why

DesignSecure™ Basketweave® Security Paper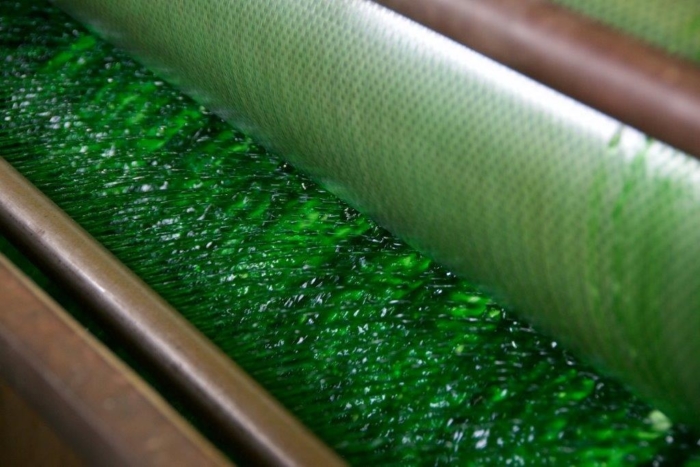 DesignSecure™ Basketweave® security paper offers unique security features designed specifically to protect secure documents against the threat of cut and paste forgery, chemical alteration and high technology counterfeiting. Our tamper proof paper uses a combination of the original security features developed in 1871 and modern sophisticated security innovations to provide advanced document protection.
Our unique technology provides cut and paste protection through perfect front to back registration. This product is chemically sensitive to a variety of document altering chemicals including polar and non-polar solvents. This feature produces a visible stain or starburst reaction on the paper when altering chemicals are applied. When bleach and ink eradicators are applied the colored pattern will disappear. Invisible fluorescent fibers are also scattered throughout this sheet providing true document authentication as well as covert protection against copiers and scanners. These fluorescent fibers can be seen with the use of an ultraviolet light (black light) in all 7 Basketweave® security paper colors.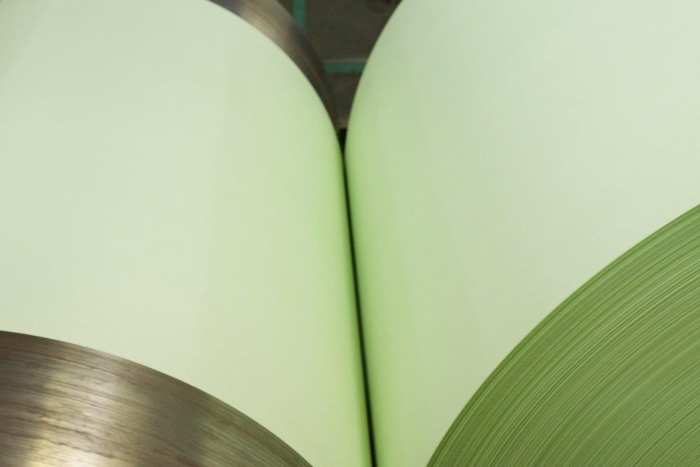 DesignSecure™ is available in seven standard colors: blue, green, pink, tan, true blue, slate, and yellow. Custom colors are available upon request. This product is stocked in the Basketweave® pattern and is also available in our standard patterns of Straight Line, Wavy Line, and Locking "L". Custom patterns incorporating symbols, patterns or logotypes can be added for prestige and increase security to documents.
The superior surface qualities of DesignSecure™ make it an exceptional performer in a variety of precise printing applications; MICR/OCR, digital (Canon & HP Certified), laser, web and sheet fed offset, intaglio, foil stamping and engraving. This product is well suited for financial applications, licenses, tickets, certificates, business forms, checks, and many other secure documents for business and commerce.
DesignSecure™ Basketweave® – Sheets
COLOR
BASIS WEIGHT
SIZE
SKU
M WEIGHT
PACK

Sheets

Blue
24
8.5 x 11
72273
12
3,000
24
8.5 x 14

72274

15
1,000
24
11 x 17
72276
24
1,500
24
17 x 22
72280
48
2,000
24
17 x 28
72282
61
2,000
24
19 x 24
72284
59
2,000
24
34 x 22
72288
96
1,000
24
34 x 28
72290
122
1,000
Green
24
8.5 x 11
72333
12
3,000
24
8.5 x 14

72334

15
1,000
24
11 x 17
72336
24
1,500
24
17 x 22
72340
48
2,000
24
17 x 28
72342
61
2,000
24
19 x 24
72344
59
2,000
24
34 x 22
72348
96
1,000
24
34 x 28
72350
122
1,000
Pink
24
8.5 x 11
72323
12
3,000
24
8.5 x 14

72327

15
1,000
24
11 x 17
72325
24
1,500
24
17 x 22
72320
48
2,000
24
17 x 28
72322
61
2,000
24
19 x 24
72324
59
2,000
24
34 x 22
72328
96
1,000
24
34 x 28
72330
122
1,000
Slate
24
8.5 x 11
72213
12
3,000
24
8.5 x 14

72217
15
1,000
24
11 x 17
72216
24
1,500
24
17 x 22
72220
48
2,000
24
17 x 28
72222
61
2,000
24
19 x 24
72224
59
2,000
24
34 x 22
72228
96
1,000
24
34 x 28
72230
122
1,000
Tan
24
8.5 x 11
72353
12
3,000
24
8.5 x 14

72354
15
1,000
24
11 x 17
72356
24
1,500
24
17 x 22
72360
48
2,000
24
17 x 28
72362
61
2,000
24
19 x 24
72364
59
2,000
24
34 x 22
72368
96
1,000
24
34 x 28
72370
122
1,000
True Blue
24
8.5 x 11
72113
12
3,000
24
8.5 x 14

72105
15
1,000
24
11 x 17
72116
24
1,500
24
17 x 22
72102
48
2,000
24
17 x 28
72104
61
2,000
24
19 x 24
72106
59
2,000
24
34 x 22
72110
96
1,000
24
34 x 28
72112
122
1,000
Yellow
24
8.5 x 11
72313
12
3,000
24
8.5 x 14

72314
15
1,000
24
11 x 17
72316
24
1,500
24
17 x 22
72302
48
2,000
24
17 x 28
72304
61
2,000
24
19 x 24
72306
59
2,000
24
34 x 22
72310
96
1,000
24
34 x 28
72312
122
1,000
DesignSecure™ Basketweave® – Rolls
COLOR
BASIS WEIGHT
SIZE
SKU
M WEIGHT
POUNDS

Rolls

Blue
24
8.5
72400
40/3
325
24
10
72402
40/3
370
24
12.5
72404
40/3
460
24
15.5
72406
40/3
565
24
17.5
72408
40/3
615
Green
24
8.5
72460
40/3
325
24
10
72462
40/3
370
24
12.5
72464
40/3
460
24
15.5
72466
40/3
565
24
17.5
72468
40/3
615
Pink
24
8.5
72440
40/3
325
24
10
72442
40/3
370
24
12.5
72444
40/3
460
24
15.5
72446
40/3
565
24
17.5
72448
40/3
615
Slate
24
8.5
72410
40/3
325
24
10
72412
40/3
370
24
12.5
72414
40/3
460
24
15.5
72416
40/3
565
24
17.5
72418
40/3
615
Tan
24
8.5
72480
40/3
325
24
10
72482
40/3
370
24
12.5
72484
40/3
460
24
15.5
72486
40/3
565
24
17.5
72488
40/3
615
True Blue
24
8.5
72450
40/3
325
24
10
72452
40/3
370
24
12.5
72454
40/3
460
24
15.5
72456
40/3
565
24
17.5
72458
40/3
615
Yellow
24
8.5
72420
40/3
325
24
10
72422
40/3
370
24
12.5
72424
40/3
460
24
15.5
72426
40/3
565
24
17.5
72428
40/3
615