VoidSecure® Features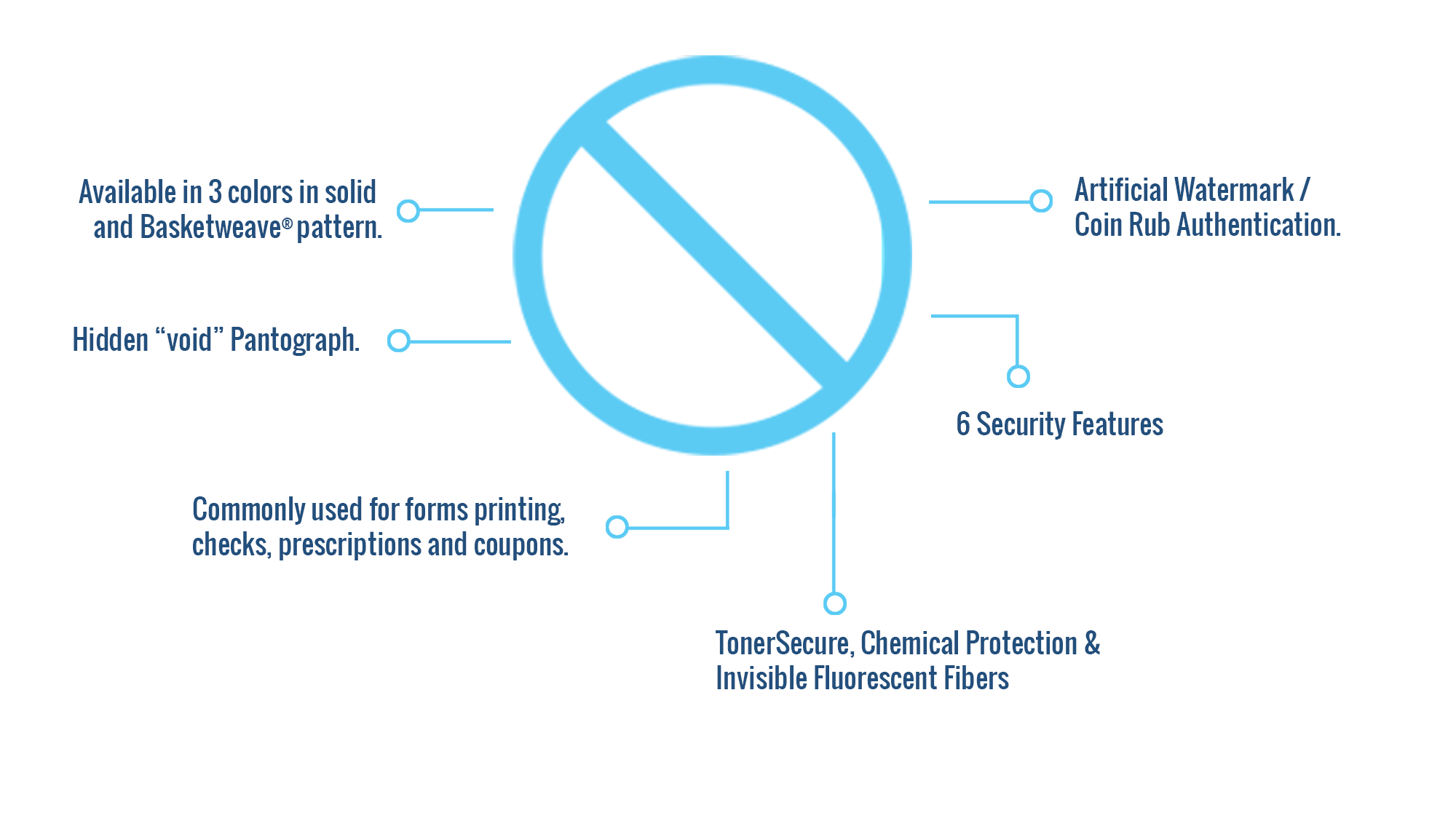 VoidSecure® Specifications
| Basis Weight (17x22x500) | Caliper | Smoothness | Tear | Mullen | Moisture |
| --- | --- | --- | --- | --- | --- |
| 24 lb. | 4.6 | 80 | 60/70 | 38 | 5.3 |
Why

VoidSecure® Security Paper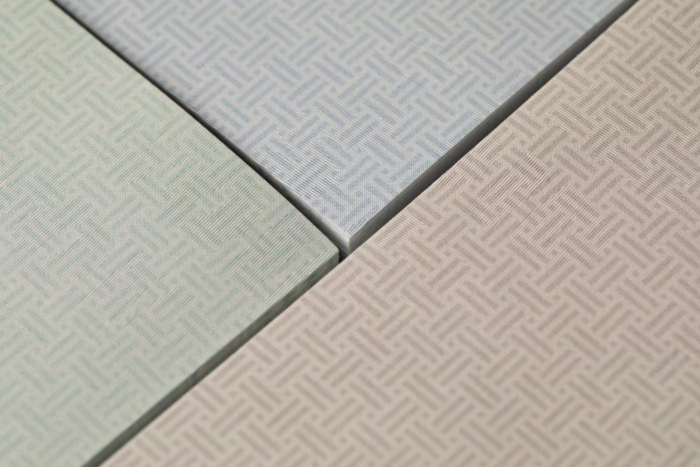 VoidSecure® is our most technically advanced security paper. This product combines the features of our traditional Basketweave® security paper with a hidden pantograph to provide an extra layer of security. When our Basketweave® or solid colored security paper is photocopied the words "Void" and "VoidSecure" will appear on the photocopy leaving the copied document null/void.*
This product contains invisible fluorescent security fibers that can be seen with an ultra violet light source (black light). These fibers cannot be copied or scanned and will not appear on the copied document providing covert protection. VoidSecure® is engineered to be UV dull to enhance the appearance of the invisible fluorescent security fibers as well as providing optimum contrast for the printers use of specialty inks.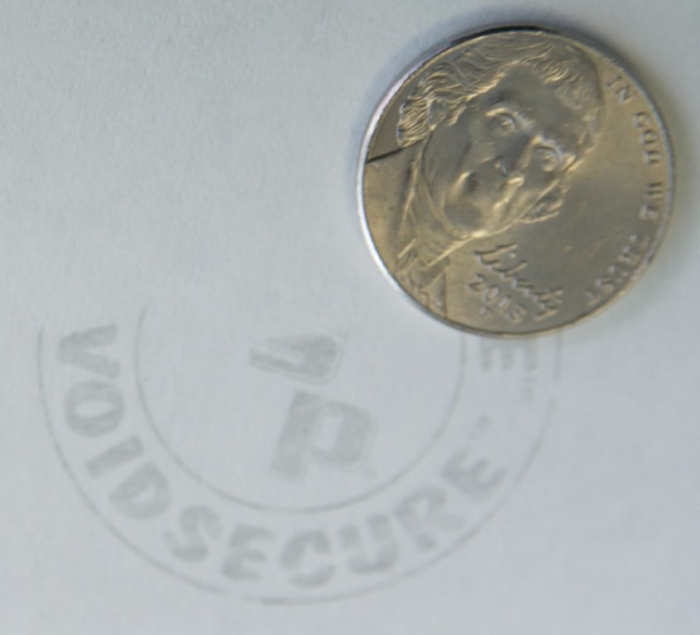 VoidSecure® is chemically sensitive to a variety of document altering chemicals including bleach, ink eradicators, polar solvents and non-polar solvents. This feature provides a visible stain or starburst reaction on the paper when document altering chemicals are applied.
TonerSecure is yet another standard feature included in VoidSecure®. This feature enhances the bond between the paper and toner; attempts to remove printed images by scraping, tape pull or folding/creasing will damage the paper surface, revealing the alteration. This covert security feature will not impact the visible appearance of the paper.
VoidSecure® is manufactured with an artificial watermark on the back of the sheet. This watermark can be seen by holding the sheet at an angle where you can see a stamp mark image of VoidSecure®. This artificial watermark can also be validated by rubbing the edge of a coin along the back of the sheet for the image to appear. This feature can be customized to use a company logo or custom images which is ideal for custom business forms.
VoidSecure® meets the requirements for Tamper Resistant Prescriptions set by CMS Guidelines. VoidSecure® tamper proof paper provides excellent performance in a variety of printing applications including MICR/OCR, digital, laser, sheet fed offset, intaglio, foil stamping and engraving.  This product is certified by HP and Canon.
Available in 3 colors in a solid or Basketweave® pattern.
*Image may vary per copier.
VoidSecure® Basketweave sheets
COLOR
BASIS WEIGHT
SIZE
SKU
M WEIGHT
PACK

Basketweave Sheets

Blue
24
8.5 x 11
72714
12
3,000
24
8.5 x 14
72743

15
1,000
24
11 x 17
72718
24
1,500
24
17 x 22
72616
48
2,000
24
34 x 22
72618
96
1,000
Green
24
8.5 x 11
72702
12
3,000
24
8.5 x 14
72744
15
1,000
24
11 x 17
72706
24
1,500
24
17 x 22
72606
48
2,000
24
34 x 22
72608
96
1,000
Slate
24
8.5 x 11
72726
12
3,000
24
8.5 x 14
72746
15
1,000
24
11 x 17
72730
24
1,500
24
17 x 22
72626
48
2,000
24
34 x 22
72628
96
1,000
VoidSecure® Solid sheets
COLOR
BASIS WEIGHT
SIZE
SKU
M WEIGHT
PACK

Solid Sheets

Blue
24
8.5 x 11
72715
12
3,000
24
8.5 x 14
72740
15
1,000
24
11 x 17
72719
24
1,500
24
17 x 22
72617
48
2,000
24
34 x 22
72619
96
1,000
Green
24
8.5 x 11
72703
12
3,000
24
8.5 x 14
72741
15
1,000
24
11 x 17
72707
24
1,500
24
17 x 22
72607
48
2,000
24
34 x 22
72609
96
1,000
Slate
24
8.5 x 11
72727
12
3,000
24
8.5 x 14
72742

15
1,000
24
11 x 17
72729
24
1,500
24
17 x 22
72627
48
2,000
24
34 x 22
72629
96
1,000